2023 Achievement Awards
February 16, 2023 6:00 PM to 9:30 PM

Celebrating Six IC Super Stars!
On February 16, more than 250 government, academic, and industry leaders came together for INSA's 13th Achievement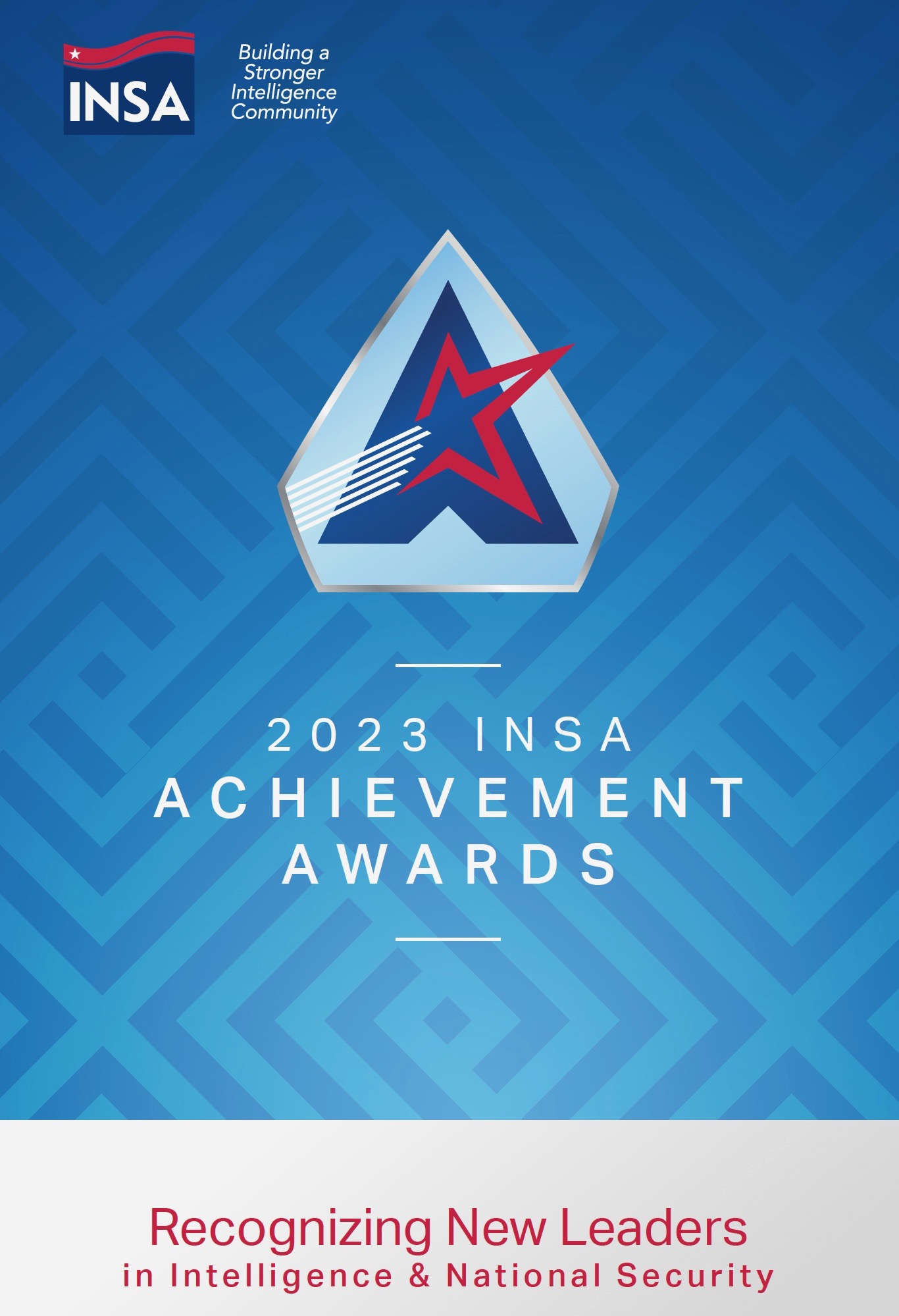 Awards ceremony at the Army Navy Country Club in Arlington, Va. The festive evening kicked off with a welcome reception, followed by an inspiring keynote address by The Honorable Ronald Moultrie, Under Secretary of Defense for Intelligence & Security, DoD. Mr. Moultrie shared personal stories that focused on the importance of prioritizing loved ones, gratitude, and the power of instilling confidence in others.
Following his remarks, senior leaders from across the community took to the stage to present the awards. The evening concluded with a celebratory dessert reception!
Congratulations to our 2023 honorees!

The Richard J. Kerr Government Award

Elizabeth Teoman, Analyst, Office of Naval Intelligence

The Edwin A. Land Industry Award

Sarah Vaughn McPeak, Senior Technical Specialist, Global-Enhanced Geospatial-Intelligence Delivery Program, Maxar Technologies

The John W. Warner Homeland Security Award

Miyako Yerick, Intelligence Analyst, ESMC, Office of Intelligence & Analysis, U.S. Department of Homeland Security

The Joan A. Dempsey Mentorship Award

MSgt Amanda D. Scurry, USAF, Senior Enlisted Leader, Information Operations Office, National Security Agency-Hawaii

The William O. Studeman Military Award

MSgt Josef Stefan Margetiak, USAF, Operations Superintendent, Intelligence, Surveillance, and Reconnaissance Division, Space Delta 5, U.S. Space Force

The Sidney D. Drell Science & Technology Award

Cameo Lance, Physicist & COO, Rhea Space Activity, Inc.
View Event Recording, courtesy of Peraton!
Speakers
Keynote Speakers
Sponsors
Small Business - Coat Check