Building a More Diverse IC: A Team Effort
March 2, 2021 2:00 PM to 3:00 PM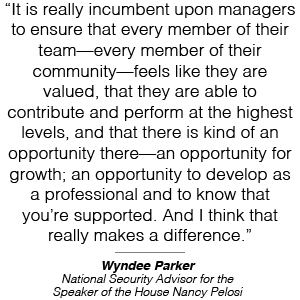 The Intelligence and National Security Foundation (INSF) partnered with Cornerstone Government Affairs to host a February 26 keynote and panel discussion focused on the importance of diversity in national security .
In his opening keynote, Rep. Bennie G. Thompson (D-MS), Chairman of the House Committee on Homeland Security, noted how the lack of diverse individuals in decision-making positions hinders the government's ability to serve all U.S. communities equally. Said Thompson, "When you don't have adequate representation of all Americans at the table, you fail to consider the wide variety of challenges facing different communities." He also discussed his efforts to help diversity the national security workforce, including recent legislation he introduced (and that was passed into law in December 2020) that established the DHS Intelligence and Cybersecurity Diversity Fellowship program for eligible college students, including HBCU's or minority-serving institutions.
Successful completion of the program leads to full-time employment at DHS. Thompson closed by emphasizing his commitment to ensuring the program is fully implemented across the department.
Panelists provided a range of perspectives about the root causes for the lack of diversity within the national security community. Rita Sampson, Chief of Equal Employment Opportunity and Diversity at ODNI, noted that this answer is complex and rooted in the history of the Intelligence Community. She emphasized that there is no singular solution to this problem and highlighted a series of actions that organizations and individuals must take to spark significant change. These include sourcing talent, remaining intentional and deliberate about recruiting and hiring, modeling behaviors we would like to see inside the community, and taking great care of everyone that joins the community. George McArthur and Wyndee Parker also weighed in, emphasizing the importance of active campaigning at the senior leadership level and the responsibility of managers to ensure that every member of a team feels valued and is provided with the tools and resources they need to grow professionally and perform at the highest level. Panelists emphasized the need to develop structures within organizations that focus specifically on workforce development, training, and inclusion initiatives.
The panelists also discussed the demand for new legislation focused on working with K-12 students and educating young people about different pathways and disciplines within the national security community. Rita Sampson noted "meeting at the mission" as the best way to understand the needs of universities, the K-12 education system, and government agencies as they seek to develop a highly-skilled and diverse future talent pool.
Wydnee Parker discussed the role of Congress in ensuring that government agencies are indeed a reflection of the U.S. population and specifically emphasized the demand for rigorous Congressional oversight of diversity and inclusion programs. She noted the need for Congress to produce thorough evaluations of program statistics and their overall impact to best determine the necessary funding for programs promoting diversity and make positive advancements.
Rita Sampson also discussed her office's new and simplistic approach to bolstering community-wide diversity and inclusion initiatives. She noted four prongs to the strategy, including developing people-centric leaders equipped with the tools and training they need to create an inclusive workforce; complying with laws to ensure that discrimination and harassment are not prevalent throughout the workforce; promoting partnerships between government, industry, academia, and NGO's to increase community-wide access to diverse talent; and investing in workforce readiness to provide the workforce with the mentorship, sponsorship, and networking resources they need to succeed.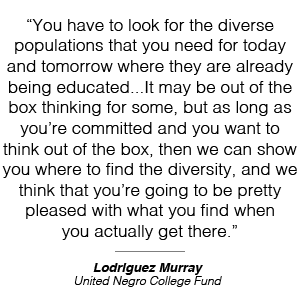 Lodriguez Murray, Senior Vice President of Public Policy and Government Affairs at the United Negro College Fund, discussed the responsibility of leaders like himself to make members of Congress aware of diversity and inclusion priorities in order to get necessary investments in HBCU's. He discussed the value of strong partnerships between government agencies and HBCU's and how they impact students and their decision to grow a career in national security.
Panelists noted the National Centers of Academic Excellence and the GEM NSA Cyber program as great partnerships and positive advancements in connecting diverse talent to opportunities within the national security arena.
Finally, panelists discussed lateral hires as being equally as critical to establishing diversity in the national security community and emphasized the importance of replenishing diverse talent at every level of organizations.
The program concluded with panelists expressing their strong commitment to better understanding the demographics of applicants, using data to determine where outreach has been effective and where improvements need to be made, and communicating their findings with Congress to ultimately make a difference in the future.