DCSA Dedicated to More Efficient Mission Success
February 26, 2021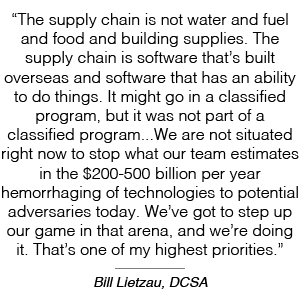 Vice President for Policy, Larry Hanauer, sat down for a Wednesday Wisdom conversation with the Director of the Defense and Counterintelligence Security Agency (DCSA), Bill Lietzau, to discuss DCSA's priorities, security clearance reform, and the agency's present opportunities and challenges.
Mr. Lietzau opened with a discussion of some of the recent internal changes at DCSA. Due to the merging of the Defense Security Service (DSS) and the National Background Investigations Bureau (NBIB), Mr. Lietzau noted DCSA can be considered a whole new agency in the way it is growing. With the absorption of different offices and bureaus, DCSA has been and is working tirelessly to improve their mission and implement changes using a three-phase approach: transfer, transition, and transformation.
Recognizing that security clearance reform is undergoing significant changes, Mr. Lietzau also discussed DCSA's efforts with regard to Trusted Workforce 2.0. He reiterated that DCSA is the implementation body of such reform, requiring the agency to work with various departments and agencies to improve personnel security. Mr. Lietzau highlighted the benefits of the Trusted Workforce 2.0 initiative, specifically noting that such a change will allow the agency to better detect and prevent insider threats with the potential to compromise U.S. national security.
While recognizing the importance of Trusted Workforce 2.0, and the benefits of continuous vetting, Mr. Lietzau also acknowledged that the initiative requires IT capabilities not presently available to the agency. Mr. Lietzau, however, remains confident that the agency will get the needed systems to an improved state in the next couple years, allowing the agency to decrease the volume of clearance backlogs and initiate continuous vetting across the board.
When asked about domestic violent extremism, Mr. Lietzau noted that continuous vetting will allow the agency to better detect anti-government threats within the cleared workforce. He indicated that domestic violent extremism is a complicated issue area, but that DCSA has made it a priority to proactively use social media data to detect threats before they arise. He mentioned that social media and other data collection methods will allow the agency to expand its intelligence threat picture on the matter, a crucial step in focusing the agency's energies.
Throughout the conversation, Mr. Lietzau highlighted the dedication of DCSA's workforce as well as his unique position as director to impact day-to-day national security. Mr. Lietzau noted that DCSA is internally adjusting to address the threats of the future, increasingly focusing their energy to look at vulnerabilities instead of threats themselves, all while keeping up with DCSA's current missions.
Related Media
DCSA Considers Changes to SF-86 as It Continues Epic Clearance Reform Efforts (ClearanceJobs.com)