Diversifying Supply Chains to Ensure Resiliency
April 23, 2021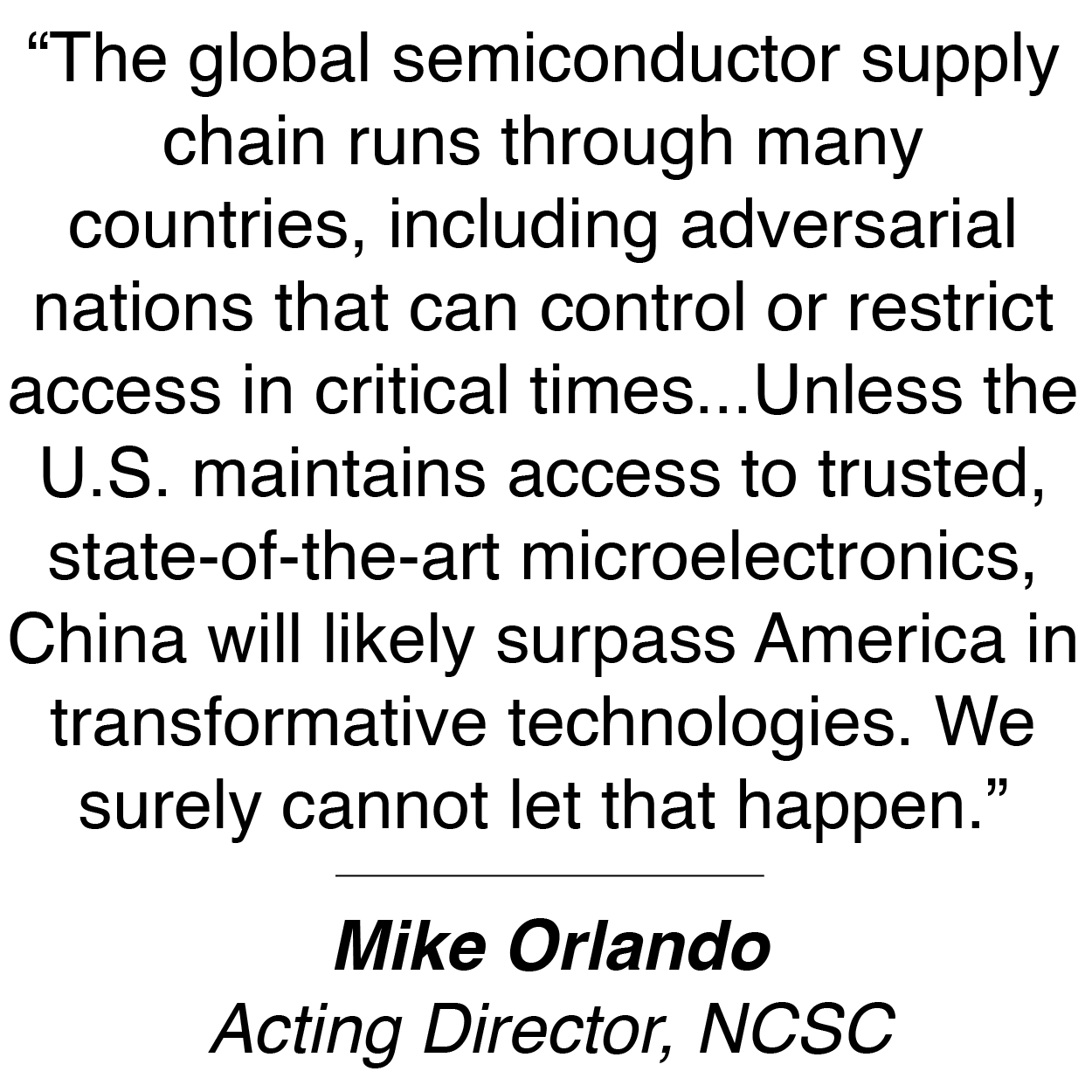 On Tuesday, April 20th, INSA hosted its "Securing Microelectronics Supply Chains" event, a two hour program that included a keynote address, panel discussion, and opening and closing remarks from two members of Congress.
Senate Majority Leader Chuck Schumer opened the program, addressing the supply chain challenges and opportunities facing the United States. By exploiting vulnerabilities in critical supply chains, our competitors are attempting to close the gap and assert more power around the world. Senator Schumer described his efforts to pass the Endless Frontier Act, a bipartisan initiative to solidify U.S. leadership in scientific and technical innovation. The legislation will also boost R&D investment that will address issues in national and economic security.
Following Senator Schumer's remarks, Mike Orlando, Acting Director of the National Counterintelligence and Security Center (NCSC), discussed NCSC's perspective on supply chain issues. In his remarks and the subsequent Q&A session, Mr. Orlando noted that shortages, supply chain disruptions, and natural disasters can have debilitating effects on the global economy and national security. Meanwhile, our adversaries seek to exploit our supply chains by inserting malware into IT services. These vulnerabilities and adversary attacks lead to IP theft, make our government vulnerable to espionage efforts, and put critical infrastructure at risk.
Mr. Orlando concluded by stressing NCSC's mitigation strategies. These include diversifying supply chains to ensure resiliency; vetting suppliers to mitigate risks, setting minimum standards, and monitoring compliance throughout the life of the product; focusing on crown jewels and prioritizing the protections of essential assets; securing Executive level commitment; and improving partnerships and information sharing between government and industry.
During the second hour of the program, John Neuffer, President and CEO of the Semiconductor Industry Association, moderated a panel conversation concerning the security of microelectronics supply chains. These materials are instrumental in AI and other technologies that we use every day and, thus, crucial to advancing the national security mission.
Panelists discussed the reality that a large portion of computer chip manufacturing exists outside of the United States and considered the merits of increasing U.S. production. Between the U.S. and China, whoever wins the "technology war" will have the economic and national security advantage.
Panelists:
Cameron Chehreh, Chief Technology Officer and Vice President Pre-Sales Engineering, Dell Technologies Federal
Russell Ellwanger, CEO, Tower Semiconductor
Dr. Carl McCants, Technical Director, Supply Chain and Cyber Directorate, NCSC, ODNI
Claire Sanderson, Legislative Assistant, Office of Sen. John Cornyn
John Neuffer, President and CEO, Semiconductor Industry Association (moderator)
To close,
Congressman Michael McCaul (R-TX),
Ranking Member of the House Foreign Affairs Committee and lead House sponsor of the CHIPS for America Act, offered remarks on the importance of domestic semiconductor R&D and manufacturing and the need to secure U.S. semiconductor supplies.
In the Media
U.S. Faces Security 'Crisis' on Chips, Commerce Secretary Says (Bloomberg.com)
USA Strengthening Microelectronics Supply Chains (Pradeep's Techpoints)
Semiconductor Shortage Shines Light on Weak Supply Chain (National Defense Magazine)