Honoring Our Community's Extraordinary Leaders after an Extraordinary Year
February 25, 2021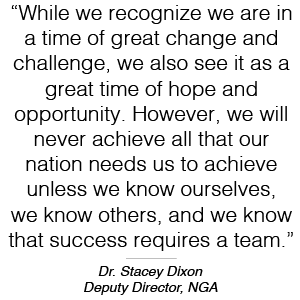 On February 17, 2021, INSA welcomed members from across the country to the 11th Achievement Awards ceremony. The over 300 viewers in attendance, gave the evening a 100% approval rating!
The program kicked off with keynote remarks from NGA's Deputy Director, Dr. Stacey Dixon. Drawing on examples from her own career and lessons learned from those who came before her, Dr. Dixon spoke about leadership and stressed that every leader should know themselves, know others, and know that success requires a team.
To present the awards, past William Oliver Baker Award recipients and senior leaders speaking on their behalf introduced each of the six Achievement Award nominees.
2020 Recipients:
Meghan Flannery Hayes, Complex Systems Monitoring Department Head, Applied Research Laboratory at Penn State (Joan A. Dempsey Mentorship Award)
Meg Guliford, Vice-Provost Post Doctoral Fellow, Perry World House, University of Pennsylvania (Sidney D. Drell Academic Award)
Darek Kawamoto, Principal Engineer, Algorithms, HawkEye360 (Edwin H. Land Industry Award)
Victoria Rossi, Intelligence Research Specialist, CISA/DHS (John W. Warner Homeland Security Award)
Maj. Arturo A. "Jay" Tibayan, Jr., USA, Duty Officer, White House Situation Room, National Security Council, The White House (William O. Studeman Military Award)
Jessica S. Van Cleaf, SIGINT Program Manager, Assistant Commandant for Intelligence, U.S. Coast Guard, CG-257 (Richard J. Kerr Government Award)
After hearing all of the awardees' inspiring stories and uplifting words, attendees were invited to turn on their cameras and come together for a celebratory toast. Even though this year's circumstances did not allow the community to be together in person for the Achievement Awards Ceremony, it was encouraging and just as special to see how many smiling faces raised a glass to celebrate our up-and-coming leaders!
We especially loved hearing from attendees over the virtual chat throughout the ceremony!