Internship Program
Graduate Student Internship Program
Are you a graduate student pursuing policy studies related to national security and defense, intelligence, or cybersecurity?
Now Accepting Applications! Apply before COB on Monday, January 22!
Apply to one of the most unique internship opportunities inside the Beltway!

INSA is on the lookout for graduate students interested in broadening their knowledge of the intelligence and national security communities.
Our interns work closely with our member-driven policy councils gaining valuable exposure to both contemporary intelligence issues (at the unclassified level) and the key stakeholders pursuing them. With the networking and professional development opportunities afforded them, INSA interns are well positioned to pursue highly sought employment in the public and private sectors.
Recent INSA interns have found employment after graduation with BAE Systems, Deloitte, DHS, DIA, FBI, Guidehouse, MITRE, NSA, and Dept. of State.
---

How to Apply!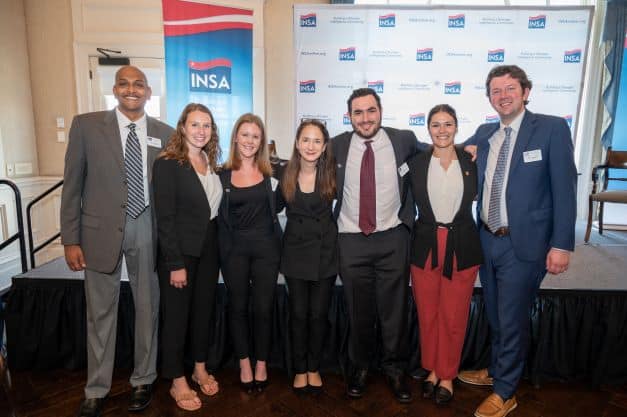 Applications due by COB on Monday, January 22, 2024!
To be considered, please submit your résumé and cover letter identifying the INSA policy councils you would be most interested in working with and available start date to internship@insaonline.org.
Potential applicants are encouraged to apply early in their graduate school enrollment. Interns are hired on an as-needed basis and open application periods may not align with semester calendars. Applicants will be notified if they are a candidate for an opening.
---
Why Intern at INSA?
Professional networking: INSA provides many unique forums to build your professional network, from evening events, both large and intimate, to brown-bag lunches with young professionals, longtime Intelligence Community members, and hiring managers from government and industry.
Professional development: INSA interns are afforded tremendous responsibility as the primary support staff to INSA's policy councils, overseeing administration and contributing to policy products. Interns will contribute to project management, professional writing, event planning, data collection, and more.
Practical engagement of intelligence issues: One challenge to entering the intelligence field is developing your résumé before you have received a security clearance. INSA offers a unique opportunity for you to make meaningful contributions to policy initiatives in an unclassified environment.
Further develop digital skills: INSA interns will develop digital literacy with tools and tech-based work as an important and necessary career skill that will benefit them when they find employment after graduation.
Position Description
As a medium-sized nonprofit, INSA relies on teamwork, with staff and interns supporting each other to accomplish the best customer service we can provide for our members. Interns are tasked with a variety of responsibilities.
Typical duties include, but are not limited to:
Assisting staff with planning and execution of events, including registration support and serving as liaison to guest speakers and other key invitees
Coordination of policy council meetings and conference calls and recording notes of those discussions

Supporting development of white papers and other policy products, per guidance of the staff and policy council chairs
Reporting on relevant symposiums and panel discussions hosted by local organizations
Front desk responsibilities, including greeting guests and answering phones
Other general administrative tasks as assigned
Interns are expected to dedicate 25 hours per week to this position.
Qualifications
Applicants are not required to have specialized expertise in intelligence or national security, although relevant coursework at the undergraduate or graduate level is a plus. All applicants should be highly motivated and sincere in their desire to pursue a career in intelligence or national security.
Prerequisites
U.S. citizenship required
Currently enrolled in a Master's program concentrating on foreign policy, national security, public policy, homeland security or intelligence studies
Have a flexible schedule with occasional evening availability
The ideal candidate would have:
Ability to commit to at least two consecutive semesters*
Administrative experience and strong customer service skills
Demonstrable project management or event planning experience
Strong writing and editing skills and the ability to write for a variety of audiences
Strong sense of organization and close attention to detail
Compensation
This is a paid hourly position of $15 hour. INSA cooperates with universities and career services offices that allow students to receive academic credit or other arranged compensation for their efforts.