ODNI COO on Staying Mission-Focused and Transparent
March 25, 2021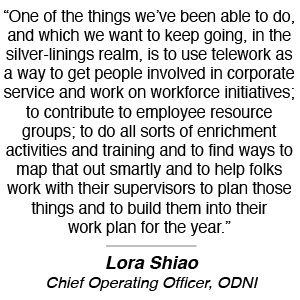 On March 24, the Chief Operating Officer (COO) of the ODNI, Lora Shiao, joined INSA Executive Vice President John Doyon to discuss her role as COO, her experience leading during the pandemic, and the resiliency of the IC and its workforce.
Ms. Shiao began by explaining her role as COO in the ODNI. She noted that the most important of her roles is ensuring smooth function of the enterprise, especially following a difficult period of frequent leadership turnover. Ms. Shiao emphasized that she has worked to empower the workforce and create a culture of corporate service. Moreover, Ms. Shiao aims to foster an environment in which individuals can play an active role in making the changes that they want to see at ODNI.
On lessons learned during the pandemic, Ms. Shiao highlighted the importance of both data and transparency. Ms. Shiao noted that ODNI used data-driven analysis to determine ways in which the organization can continue to achieve it mission without sacrificing safety. She also underscored the importance of transparency, noting that ODNI regularly shared the data with the workforce, as it is critical to ODNI's mission for all parties to be aware of the Office's situation and strategies. And although Ms. Shiao hopes future pandemics do not arise, she is currently writing a handbook to better equip future leadership for similar crises.
Ms. Shiao also applauded the ethos of quiet service, as those within ODNI and the broader IC are essential in a crisis situation; leading during the pandemic meant that Ms. Shiao wanted to ensure that the sacrifices of the ODNI and IC writ large were recognized and that the workforce was valued for its critical work.
Ms. Shiao emphasized that issues related to diversity and inclusion are currently a top priority for ODNI, as previously stated by DNI Haines. She noted that nothing the organization does can be seen as furthering bias and discrimination. Mentioning the widespread discrimination within the U.S. following 9/11, Ms. Shiao noted that she hopes both ODNI and the IC never again create conditions for national security challenges to be used by anyone as reason for discrimination.
Speaking to the IC and future IC workforce, Ms. Shiao encouraged individuals to step outside of their comfort zones and go on joint assignments, which she described as "life changing" in her own career. She recognized that such assignments are difficult, but it was these experiences that offered her new perspectives and ultimately made her better at her job whenever she returned to home base.
Ms. Shiao concluded by encouraging those interested in the IC to join, hone a craft, and undertake the important responsibility of speaking truth to power. She highlighted that in this field, people truly get to help policymakers tackle the toughest problems in the national security space. Ms. Shiao described this work as not only invigorating, but incredibly empowering. Work at ODNI and within the IC, she said, is filled with magic, and those within the community get to see that magic every day.
Related Media
Intelligence Community Embraces More Telework Opportunities to Keep Employees Engaged (ClearanceJobs)